Start
29.06 - 06.07. 2018
Wagner`s world: EXIL
RWS - The Romantic Festival in Saxony
»Der Blick über die Welt hinaus ist der einzige, der die Welt versteht«.
Richard Wagner
Wagner's World
Wagner`s Welt EXIL
Richard Wagners Reisen durch Europa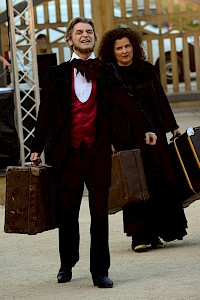 Der Dresdner Mai-Aufstand 1849 setzte Wagners Karriere als Hofkapellmeister in Dresden ein jähes Ende: Er hatte aktiv am Aufstand teilgenommen und wurde nun von der Polizei steckbrieflich gesucht. Eine abenteuerliche Flucht unter falschem Namen führte ihn in die Schweiz nach Zürich. Nun ohne feste Anstellung widmete er sich der Ausarbeitung seiner künstlerischen Visionen: Die Zürcher Kunstschriften "Das Kunstwerk der Zukunft" und "Die Kunst und die Revolution" entstanden, angeregt durch einen regen Briefaustausch mit seinen Freunden Franz Liszt und August Röckel. Eine kurze Affäre mit Jessie Laussot führte ihn für einige Wochen nach Bordeaux.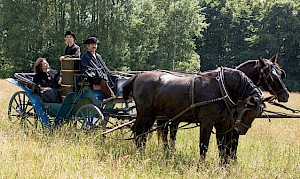 1852 lernte Wagner seinen späteren Förderer Otto Wesendonck und dessen Frau Mathilde kennen. Er begann mit der Niederschrift seiner Textdichtung zum Ring des Nibelungen, zu welcher er auf seinen Hochgebirgswanderungen ideale Szenenbilder fand. Auf einer Parisreise lernte er erstmals Liszts Tochter Cosima kennen, seine spätere zweite Frau. Die intensive Lektüre von Schopenhauers Werk "Die Welt als Wille und Vorstellung" beeinflusste entscheidend die Oper "Tristan und Isolde", die er aus Liedern für seine heimliche Geliebte Mathilde Wesendonck entwickelte. Nach Bekanntwerden dieser Affäre siedelte Wagners erste Ehefrau Minna wieder nach Dresden um.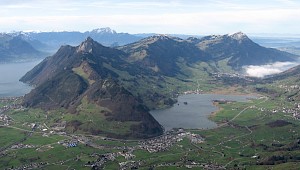 Zahlreiche Reisen Wagners durch ganz Europa schlossen sich an. In Luzern vollendete er den "Tristan" und wohnte dann einige Monate in Wien, um dessen Uraufführung zu begleiten, welche aber wegen Schwierigkeiten abgesagt wurde. Seine Liebe zu Cosima von Bühlow, geb. Liszt konnte sich auf Grund ihrer bestehenden Ehe und Wagners Flucht vor der Steuerfahndung vorerst nicht erfüllen. Seine Odyssee durch Europa war angefüllt mit zahlreichen Konzerten, welche aber wirtschaftlich wenig erfolgreich waren. Seine Sehnsucht nach wirtschaftlicher Unabhängigkeit schien sich endlich zu erfüllen, als König Ludwig II. von Bayern als Mäzen und Wagner als "väterlicher Freund" und Berater eine sehr einseitige Freundschaft bis zu Ludwigs Tod eingingen, begleitet von heftigen Vorwürfen über Verschwendungssucht und politischer Einmischung aus Hof und Gesellschaft.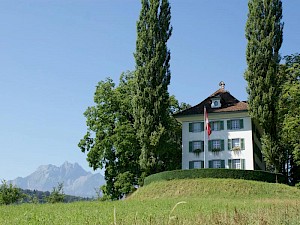 Nach weiteren Reisen durch Frankreich fand er Asyl in Tribschen, Luzern und konnte endlich die unterbrochene Arbeit an den "Meistersingern" wieder aufnehmen. Nun zog auch Bühlows Noch-Ehefrau Cosima mit Ihren Kindern und der gemeinsamen Tochter Isolde zu ihm und begann am 01.01.1869 Tagebuch zu schreiben und die Zeit mit Wagner akribisch zu dokumentieren. Allein 23 Besuche Friedrich Nitzsches in Tribschen sind verzeichnet, bevor er mit dem von ihm zuerst hochverehrten Freunde brach. Nach Ihrer Scheidung von Bühlow heiratete Cosima Wagner in der protestantischen Kirche in Luzern. Wagner schenkte ihr zum Geburtstag die Komposition "Siegfried-Idyll", welche im Treppenhaus von Tribschen uraufgeführt wurde. 1871 wählte Wagner Bayreuth als Festspielort und kündigte die Uraufführung des "Ring des Nibelungen" an. Mit dieser Zäsur beginnt dann unser Inszenierung "Wagners Welt: BAYREUTH".
A play of heaven or Once I am eternal
Caspar David Friedrich in Dresden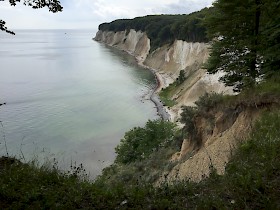 In the summer of 1798, the today probably most important German painter of the early romantic age, Caspar David Friedrich, at the start of his career, reached the Saxon capital, Dresden, via Greifswald and Kopenhagen with the goal to continue his studies in this centre of the arts. That very same year, in autumn, Friedrich enrols at the royal art academy, the following year he presents his works for the first time at the annual exhibition of the academy. Among the teaching artists that are known to have influenced him, in particular, are Adrian Zingg, Johann Christian Klengel, Christian Gottfried Schulze and also Jakob Crescenz Sydelmann. Friedrich officially joins the academy in 1816 and is rewarded as extraordinary professor eight years later - the greatest honour, however, the role of headmaster for the classes in landscape painting remains closed to Friedrich all his life.
The painter joins the local circle of romantics in Dresden: his close friends Carl Gustav Carus and Gerhard von Kügelgen are considered important representatives of the group; their chosen place of gathering is the Kügelgensche Stadthaus (today: Kügelgenhaus) - then known under the name "Gottessegen" (God's blessing). In this context, the later murder of Kügelgen proves formative for Friedrich and inspires him, during a time of difficult political circumstances, to the painting "Kügelgens Grab" (1821/22). As a witness to the Napoleonic occupation, the liberation wars and the following time of restoration Friedrich's work in Dresden is repeatedly affected by restrictions; great personal crisis and illness further leave a lasting impact on life and work of the painter.
Time after time Friedrich encounters prominent personalities from the realms of politics and arts in Dresden, among them the crown prince Friedrich Wilhelm of Prussia, Prinz Christian Frederik of Denmark, Johann Wolfgang von Goethe, Friedrich de la Motte Fouqué, David d'Angers and many others. Additionally, the number of his students grows steadily as they come and go and study in his river-view house, and soon this becomes a well-respected address for artistic exchange and eventually the centre for romantic landscape painting- far out of the way of the actual academy rooms.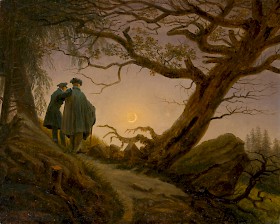 Aside from his numerous trips to the island Rügen, Greifswald, Breesen and Neubrandenburg, Friedrich often travels to the close by Saxon Switzerland and Northern Bohemia - landscapes that inspire him to great masterpieces, among them his perhaps most popular: The approximately 1818 landscape composition "Der Wanderer über dem Nebelmeer" (Wanderer above the Sea of Fog). Often Friedrich is accompanied on his travels by his Norwegian painter colleague, close Friend (and from 1823 on his long-term neighbour "At the Elbe 33") Johan Christian Clausen Dahl. Both of their works have recently been exhibited in the Dresdner Albertinum in the popular exhibition "Dahl und Friedrich. Romantische Landschaften" ("Dahl and Friedrich. Romantic Landscapes"). Friedrich's famous painting "Zwei Männer in Betrachtung des Mondes" (Two Men Contemplating the Moon) serves as a testimony of this friendship: Even though there is some disagreement over the identity of the men depicted it is known that Friedrich painted it specifically for Dahl and gifted it to him.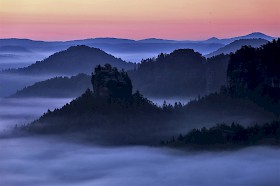 The painter's poor health causes his work to end abruptly in 1837: Two strokes within a few years force Friedrich to give up his artistic activities. A few months before his death the socially withdrawn and financially desperate Friedrich is forced to repeatedly sell parts of his work to Russia. After a long period of sickness Friedrich dies, aged 65 years, on the 7th May 1840 in Dresden. His grave is found in the Trinitatisfriedhof (Trinitatis cemetery) in the district of Johannesstadt.
Wagner in Dresden
Wagner in Dresden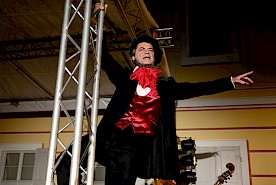 In spring 1842 Wagner received a message by the Dresdner Hofoper, that they wanted to present his opera Rienzi. A legend tells the story about an Italian singer who gave Wagner his own bread and wine to strengthen him during practice hours. Nevertheless, the singer's small role got revoked. The legend states that this particular singer was the one being responsible for Wagner's denunciation linking him to the insurrection of May 1849. Due to that a warrant for Wagner was issued leaving him no choice but to hide in exile in Switzerland. First Rienzi was a huge success and inspired enthusiasm in the whole city of Dresden.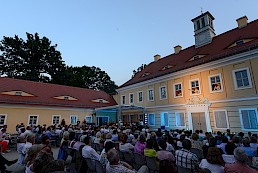 In June 1842 Wagner stayed in Teplice, where he started creating Tannhäuser. After the successful premieres of Rienzi in October 1842 and the 'Flying Dutchman' only months later Wagner was announced as the royal Conductor of the Saxon Court Chapel. Additionally, he took over as conductor of the Dresdner Liedertafel, a position which he, soon after the premiere of the commissioned choir piece Das Liebesmahl der Apostel in the Frauenkirche in summer 1843, passed on to Ferdinand Hiller.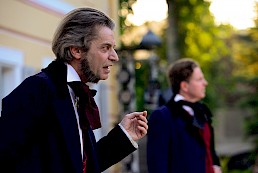 During this time Wagner became friends with Gottfried Semper, Anton Pusinelli and August Röckel with whom he talked about politics and the future of the theatre.Through Röckel Wagner also met the Russian anarchist Michael Bakunin who had similar political beliefs as Wagner. In July 1845 Wagner stayed in Marienbad and began to write the opera Lohengrin, which he finished in Graupa in the summer of 1846. In Dresden, Wagner led the premiere of Tannhäuser, which had only been a success after changing the final scene to the 'Dresden version'. Throughout Wagner's very productive and creative years in Dresden, he put a lot of effort into a theatre reform at the Court Theatre Dresden. He also developed an ideal status which art and music should hold in society.
Thereby it was mostly experiences in nature, which gave Wagner inspiration. One special feature the inhabitants of Dresden still cherish is the proximity of the mountain range called Saxon Switzerland. Only a few minutes outside Dresden Wagner stayed in one of the many small villages for his summer vacation to write the composition sketches for Lohengrin. Back then it was called: 'Groß Graupe'.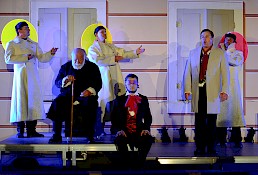 Let the surroundings inspire you like they inspired Wagner. Come visit us in July for our performance and wander through the 'Richard Wagner Stätten' and enjoy an evening full of music, theatre and good food by the fireplace.
Der Patriotismus wird sich immer als ein gemeinnütziges Streben äußern, und noch nie hat ein Demagog oder ein Intrigant ein Volk verführt, ohne es auf irgend eine Weise glauben zu machen, es sei in eine patriotische Bewegung begriffen.
Richard Wagner
Ensemble
Maler
Ensemble
Singers
Musicians
Actors
Production Team
Richard Wagners Musik ist von vorgestern und übermorgen.
Friedrich Nietzsche
WAGNER SALON
Before the performance commences on performance days you are warmly invited to the WAGNER SALON in the hall of the hunting lodge.
Due to the limited amount of spaces, a reservation with the Richad-Wagner-Stätten is required by phone at +49 3501 461 96 50. The ticket for the evening performance is also valid as the ticket for the Salon. If you wish to attend exclusively the Wagner Salon you may purchase a ticket for 7,- € at the box office.
29. June 2018 | Steffen Friedel - Saitenweise Werkstattklänge - Instrumentenbau
"Die Geige klingt wie ihr Erbauer" sagt Steffen Friedel. Es muss es wissen, hat er als Instrumentenbauer doch täglich mit den verschiedensten Violinen, Bratschen und Celli zu tun. Ob Reperatur oder ein Neubau, abgestimmt auf die individuellen Wünsche es Musikers, Steffen Friedels Herangehensweise unterscheidet sich in vielem von anderen Meistern seines Gewerkes. Was macht ein gutes Instrument aus, wieviele Handgriffe braucht es, bis ein Stück Holz nach Mozart klingt und was ist das Geheimniss Stradivaris? Der Träger des Deutschen Musikinstrumentenpreises gibt uns einen praktischen Einblick in seine Werkstatt, lädt ein, ihm bei der Fertigung über die Schulter zu schauen und zeigt, dass die Entwicklung der Streichinstrumente noch lange nicht abgeschlossen ist. Zum SALON erklingen seine Instrumente in den Händen von Musikern des Festspiel-Orchesters.
30. Juni 2018 | Spazierengehen - Ein Workshop mit Kirsten Krepelin und Thomas Thränert
Workshop "Landschaftswahrnehmung als Selbstversuch – ein Spaziergang in Graupa" mit K. Krepelin und T. Thränert
Als Spaziergänger erlebten die Zeitgenossen Caspar David Friedrichs oder Richard Wagners im Angesicht von Felsen, Abgründen und Gipfeln tiefe Ergriffenheit, Erkenntnis und Enttäuschungen. Getrieben wurden sie dabei nicht nur von persönlichen Interessen und ästhetischen Anregungen, sondern bald auch von gesellschaftlichen Ritualen und kollektiven Deutungsmustern. Der Weg ins Freie wurde zu einem Gang auf touristisch erschlossenen Infrastrukturen. So wurde in den Jahren der Romantik um 1800 der Weg zur Landschaft als Projektionsraum und Interessensfeld für ein Massenpublikum entdeckt und geebnet.
Der Workshop beschäftigt sich mit Gestaltungselementen und Praktiken, die diesen Prozess und das Landschaftserleben um 1800 prägten. Sinnlich und praktisch erproben die Teilnehmer vor Ort die Wirkungsweise einzelner Methoden. Im Workshop ist ein Picknick includiert.
1. July 2017 | Prof. Dr. Werner Busch
Colour, God and Politics - Caspar David Friedrich's travels
During his travels, Caspar David Friedrich discovered numerous new regions as motives: The island of Rügen, the Saxon Switzerland, the Krkonoše, Bohemia and many more. He collected the individual motives in over 1000 sketches, details studied right in the middle of nature. In his studio, he drew on these studies to compose his painting. The models for almost all of his single motives can, by and large, still be found today. Prof. Werner Busch invites the audience to join his search for the places of inspiration and tries something very old-fashioned: To understand the exact appropriation of nature in the studies of Caspar David Friedrick and come to grasps with his aesthetic process, which gives every painting an abstract order. Thus Prof. Werner Busch returns to the historical and aesthetic place of Caspar David Friedrick and opens up a new way of accessing the work of one of the most important and most fascinating German painters.
Werner Busch studied History of Arts from 1966 to 1973 in Tübingen, Freiburg, Vienna and London. He received his PhD in 1973 in Tübingen for his dissertation about William Hogarth. He taught as a professor at the Ruhr-Universität Bochum from 1981 to 1988. From 1988 till 2010 he worked as a professor of History of Art at the Freien Universität Berlin, where he was the speaker of the special research group 626 "Aesthetic Experience under the sign of delimitation of the arts" from 2003 till 2009.
Moderated by: Michael Ernst
2. July 2017 | Ernst Hirsch
"Caspar David Friedrich in Dresden" - A film by Ernst Hirsch
The camera operator and director Ernst Hirsch is considered one of the most renown filmmakers of the GDR. He shot his first film in 1953 together with the DEFA- director Hermann Zschoche, who would later also produce work about Caspar David Friedrich. With his over 3000 documentary contributions, he specialised in films about the treasures of the Dresdener Kunstsammlung and portraits about his native city. At the same time, he collected historical film evidence of the old Dresden. In 1986 he laid down the basis for the fertile cooperation with the director Peter Schamoni from 1990, when he assisted the Munich- based director with his work on the Caspar- David- Friedrich- Film "Grenzen der Zeit" (Border of Time). Later on, Hirsch can be found behind the camera for Schamoni's documentaries about Max Ernst, Niki de Saint Phalle and Kaiser Wilhelm II. Hirsch realised his film "Caspar David Friedrich" even before "Grenzen der Zeit". It's premier on GDR television was well received. In 2005 Hirsch was called to join the Saxon Academy of the Arts.
7. July 2017 | Workshop "Going for a walk" - Kirsten Krepelin und Thomas Thränert
Workshop "landscape perception as self- experiment - a walk in Graupa" with K. Krepelin and T. Thränert
During their walks, the contemporaries Caspar David Friedrich or Richard Wagner experienced deep vulnerability, cognizance and disappointment in the face of rocks, crevices and peaks. They were driven not only by personal interest and aesthetic stimulation but also by societal rituals and collective ways of thinking. The path in the open air became a walk within a tourist- oriented infrastructure. During the years of the Romantik around 1800 the walk into the landscape became a projection room and field of interest for the masses.
The workshop will look at different elements and practices of design, that impacted this process of experiencing landscape. Sensually and practically participants will try the effect of different methods locally.
8. July 2017 | The Boat trip
The shipping of the "Tetschener Altar" up the river Elbe from Pirna to Bad Schandau (lunch) to Decin
Welcome on board! On the 8th July 2017, at 9.30 am, the painting "Tetschener Altars" will be loaded on to a paddle steamer of the Saxon steamboat association and will travel, along this historic way, through the romantic Saxon Switzerland, to Bad Schandau. After the ceremonial cocktail-reception in Bad Schandau you could have lunch in the 5-star-hotel Elbresidenz. Enjoy, preferably together with your guests, the excellent cuisine on the banks of the river Elbe with a view to the rock formation Schrammsteine. In Bad Schandau a boat off the Decin shipping association will take over the precious cargo for transportation to Decin. You will enjoy this romantic paddle boat tour with one of the most important painting of the 19th century- an unforgettable day filled with inspiration from landscape and art.
8. July 2017 | State minister Dr. Eva-Maria Stange and consul general PhDr. Jiří Kuděla, PhD
Dedication of the "Tetschener Altar" at Schloss Děčín followed by a panel discussion "Our joint cultural heritage - a trust for the future?"
After it was bought by the bohemian noble family von Thun the "Tetschener Altar" found a home for 112 years in the castle of Decin. The place of its exhibition is documented in photographs. 210 years after its purchase a festive ceremony will see a master copy of the painting returned permanently to Decin. It's dedication to the castle of Decin will take place during a Wagner Salon with prominent guest: Our patron, the Saxon state minister for science and arts Dr. Eva-Maria Stange, the Czech general consul Jiří Kuděla and additional important guests will voice their vision for our cultural region in the heart of Europe during the panel "Our joint cultural heritage - a trust for the future?".
14. July 2017 | Václav Vokolek
"Between heaven and earth" - Performance and Reading with Václav Vokolek
With their book, Zwischen Himmel und Erde (Between heaven and earth) Václav Vokolek (text) and Dr. Jan Červenka (co-author) pay homage to the romantic painter Caspar David Friedrich, and the romantic itself, as the book reflects. The introductory account is filled with symbols and signalling abbreviations and recounts an occurrence in the life of the mysterious "Altwurm" (old worm), which enters the romantic painting and leaves his traces there. It is these traces the reader must follow as he overhears the conversations of two magicians and over whose shoulder he looks into a whole new world of paintings.
Václav Vokolek is considered a special expert for the history of the romantic and invites the audience to follow him along the romantic paths of the Saxon- Bohemian Switzerland.
1. July 2016 | Prof. Dr. Eckart Kröplin
Music from Light
Richard Wagner - a composer of colours: In a context of synesthesia - think of Novalis, Caspar David Friedrick or Carl Maria von Weber - Richard Wagner stands out especially. His concept of the "Gesamtkunstwerk" (Total work of art) is defined in the overlap of poetry, music and painting, word, sound and colour. His music is filled with tonal colours. Prof. Dr. Eckart Kröplin will speak about some of these aspects.
2. July 2016 | Kirsten Krepelin und Thomas Thränert
Which way to Landscape? - Walks into the region around Dresden around 1800
What had been seen until the 18th century as forest property, hunting grounds or potentially dangerous travel route began now increasingly to be viewed aesthetically - as landscape - by a section of the city population. This city dweller's view of nature and rural life is subjective or influenced by collective ways of thinking. The tangible readings are significantly influenced by painting and graphics but also by artful garden designs. Thus around 1800 all over the Dresden area valleys and peaks were developed. By means of path laying, the erection of monuments, huts, artificial ruins and temples, the planting of certain plants and the freeing of certain views the initiators interpreted the landscape in certain ways and influenced the understanding city dweller's gained of the landscape. Caspar David Friedrich and Richard Wagner are among the contemporaries who presented themselves as walkers or hikers in this context.
Kirsten Krepelin and Thomas Thränert have published a series of writings on the beautified landscape (Die gewidmete Landschaft / 2011(The dedicated landscape) und Reliefstudien / 2016 (relief studies) ). The Wagner Salon will follow the tracks of the walker around 1800 to connect with significant themes and locations, highlight the role of music in the use of beautified landscape and shows current perspectives of this approach to design and art.
8. Juli 2016 | KS Prof. Peter Schreier
Photography: Matthias Creutziger
Beyond the sound, aside from tone
In this years' Wagner Salon the tenor and conductor Peter Schreier speaks about the inspiring force and effect of other art forms on his own work: Inspirations he has gained during numerous trip within and outwith Germany, driven by exactly that passion, which perhaps can most poignantly be described by the reversal of the famous words by Paul Klee, who once described painting as his wife, as opposed to the music, which he described as his lover.
Look forward to an exciting presentation with various insights into the artistic riches of Peter Schreier!
9. Juli 2016 | Thomas Frick
Caspar David Friedrich - the painter of thoughts int he romantic
The opener for the audience's discussion is provided by the Rostock-born and raised director Thomas Frick who will speak about the highlights of his 2007 NDR film about the most important events in the life of the painter (script: Hans-Jörg Lüdicke). The scenic documentary which was shot in numerous original locations from Dresden to Rügen offers a profound and leisurely entry point into the artistic cosmos Friedrich's. All visitors are warmly invited to surrender to the scenic thought world of the romantic artist during a unique journey in moving images.
4. Juli 2015 | Prof. Hartmut Haenchen
Werktreue und Interpretation (Faithfulness and interpretation)
"For me as a conductor, the source study was always the decisive thing" - "conducting, for me, has always been a public task" - Prof. Hartmut Haenchen is one of the leading Wagner-conductor of our days. However, his recordings with his Orchester C.Ph.E of Bach and Mozart also border the legendary. In a dialogue with Dr. Peter Ufer Prof Haenchen will present his new book "Werktreue und Interpretation" (faithfulness and interpretation).
For further information, please click here.
3rd July 2015 | Albrecht Müller and Markéta Bartoš Tautrmanová
Orchestra manager of the North Czech Philharmonic Teplice and the romantics in Bohemia
In conversation with Dr.phil. Markéta Bartoš Tautrmanová, Teplice, who is writing her doctor thesis about the artists of the romantic, Albrecht Müller is introducing his orchestra.
The North Czech Philharmonic Teplice is the only Symphony orchestra in the region of Usti. Its founding certificate dates it back to 1838. Since the end of the 19th century, the orchestra regularly performs cycles of symphonic music in co-operation with the then most well-regarded conductors and soloists. The greatest personalities of the world music scene, like for example the conductor Eugen d'Albert and Richard Strauss, played concerts in Teplice. During the summer the orchestra played around 18 symphonic concerts and during the winter it performed a cycle of symphonic music. In addition to the artistic director, a number guest conductors have led the orchestra, like for example Siegfried Wagner and Felix von Weingartner. Similarly, all Czech violin virtuosos, from Jiří Slavík to Jan Kubelík, have performed with this orchestra.
For additional information, please click here.
12. Juli 2013 | Prof. Dr. Hans John
Hans John (born 1937) belongs to a family of cantors. He studied musical training, musical science, classic philology and singing in Weimar and Berlin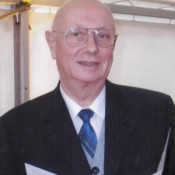 . He has been working at the university for music »Carl Maria von Weber« in Dresden for almost 25 years and since 1993 he is the head of the institute for musical science, which he founded.The focus of his research is the protestant church music, the musical history of Dresden and the history of music in the 19th century. He has published works, among others, about Schumann, Liszt and Wagner, Weiss and Zimmermann. He is a well-renowned lecturer at international music congresses in Sintra (Port), Oxford, Kopenhagen, Oslo, St. Peterburg, Warsaw and Dresden.
A selection of his publications
Books about numerous musicians, for example August Homilius
Works about music in Weimar and the history of the Kreuzchor
Contributions to commemoratives, yearbooks and journals
Publisher and co-publisher of countless anthologies and collections
Die Dresdner Oper im 20 Jahrhundert (2001)
Dresdner Stadtgeschichte (2006)
Music in the romantic
Richard Wagner
Music in Dresden and Weimar
Hans John is not only one of the internationally most important music researchers, but also one of the most engaging speakers on the subject. The lives of these composers are relived in his lectures just like their music is alive in the performances of great orchestras.
6. Juli 2013 | Friedrich Dieckmann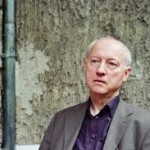 The Love Prohibition
Born 1937 in Landsberg, Friedrich Dieckmann spent his childhood and youth in Dresden and around Berlin. He studied German, Philosophy and Physics in Leipzig and has worked a freelance author, essayist, critic and dramaturg in Berlin. He is a member of various Saxon and German cultural institutions and collectives and has won a variety of prizes for his outstanding work,
Richard Wagner in a new light:
Love prohibition: this basic theme can be found in nearly all of Wagner's operas. At times it is plain, other times it is subtle and underlying. The confrontation of elementary forces also influences Wagner's radical political engagement. It is no coincidence that the music for "Lohengrin" - a drama about deceptive salvation - was finished just as the democratic revolution of 1848 reached Saxony. The Saxon uprising is beaten down by the ruling classes in may 1849. The fighters on the barricades in Dresden are joined by the royal music director Richard Wagner. He risks his life and his professional existence and shortly after finds himself wanted refugee. The defeat in Dresden becomes the origin of the tragedy "Ring des Nibelungen".
Friedrick Dieckmann's book shines a light on to this time of fundamental crisis in the life of the world dramatist, who supported the revolution of victims as he believed to be composing for a revolution of society.
5. Juli 2013 | Prof. Dr. Ingo Zimmermann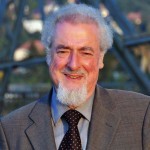 Ingo Zimmermann, president of the SADK (Saxon academy of the arts), speaks about: Wagner in Dresden - a historical point of view
Ing Zimmermann graduated in 1958 from the Dresden Kreuzschule and went on to study Theology in Leipzig - not to become a pastor but to gain a base for his literary career, free from any ideological constraints. In 1963 he became a lecturer at the Union Verlag in the divided Berlin, side by side with Johannes Bobrowski, whose novel "Levins Mühle" formed 1972 the base off Zimmermann's libretto. With music by his younger brother Udo Zimmermann, the work became a success far beyond his own country. The opera was preceded by the opera "Die weiße Rose" about the resistance of students in Munich to a criminal war and was complemented by three further opera texts, subject to varying fates. Alongside these texts came a literary- biographical bibliography which centres around historical personalities that had fought for their position in a selfish and power obsessed society. His account of Luther in hiding as "Junker Jörg", several books and his dissertation about the catholic- conservative antifascist activist Reinhold Schneider and studies about Jochen Klepper and Rudolf Mauersberger marked important steps throughout the seventies, at a time when Ingo Zimmermann had returned to his hometown and worked as literature critique closely with the daily newspaper "Die Union".
The cultural and intellectual freedom provided by the Christian- Democratic- Union (CDU) in the GDR through its publications and newspapers is today often underestimated. Here Ingo Zimmermann found the necessary baking that led to a book which in a way preempted the return of the Free State of Saxony. The book dealt with the impact of the Dukes of Wettin, the electors and kings throughout the centuries and was published during a period of time which saw the author violently thrown into politics. As a parliamentary delegate, he influenced a cultural policy which promoted the creation of regional cultural zones and would serve as an example for all of Germany. The foundation of the politically advising culture senate and the academy of the arts set additional examples of political cultural responsibility. Ingo Zimmermann served as founding member of both these institutions and after the first legislative period of the parliament he took on a teaching role at the Dresden university for music which enabled him to share his immense culture-historical knowledge with young musicians. For many years he dedicated much of the time he would have liked to spend with his literary work to the causes of the Saxon musical council and the academy of the arts.
The physical toll that such dedicated, voluntary leadership may bring should not be overlooked in the case of Ingo Zimmermann's culture-political engagement. His work serves as an example of just how important an institution may become if at its head knowledge of the values of the past is paired with increasing consciousness of the future. His serious demeanour, his outspokenness and his likeable personality have impressed themselves on everyone who experiences him in these offices. The fight over the construction of a new bridge in Dresden which would risk the cities status as Unesco World Cultural Heritage affected Ingo Zimmermann as president of the World Heritage Committee especially. His sorrow concerning the persistent silence of the government with regards to a publicly dividing crisis was fed in particular by his sense of loss of that, which he recognised to be the European mission of the city. He feared a return to power-driven provinciality. "The construction of the new Europe will never be accomplished without ideas and ideals that are filled with the belief in the historical mission of Europe" - this he says in one of his Essays. If this mission fails Europe is in danger of "diminishing into a soulless construct, a bureaucratic and technocratic monster".
His poignant statements, his remarkable selflessness with which he emphasised action and civility in his writing and offices and highlighted culture as a basic need of a sustainable society have never made Ingo Zimmermann a comfortable but nonetheless always inspiring conversation partner.
28. Juni 2013 | René Pape
My Wagner- Roles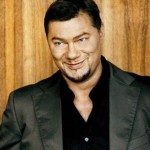 From Gurnemanz to Filippo II, from Sarastro to Mephistopheles, from Boris Godunov to Rocco, Pape interprets all main parts in his subjects for years with the greatest arts personalities in the classical music scene like Sir Georg Solti, Daniel Barneboim, James Levine, Zubin Metha or Valery Gergiev.
Based at his Berlin home theatre "Unter den Linden", René Pape has developed his far-reaching guest performances since 1998. Sir Georg Solti invited the "Black Diamond Bass" to play the part of Sarastro at the Salzburg Festival (1991 under the direction of Johannes Schaaf, 1997 under the direction of Achim Freyer), which he had also played under Scolti's direction at the Mailand Scala. Also under Solti's direction, he interpreted the part of Rocco in the newly produced "Fidelio" in 1996 at the Salzburg festival, in 1998 he sang the part of Filippo II in "Don Carlo" and in 2000 Leporello in "Don Giovanni". He repeatedly sang the part of Sarastro and presented the role in 1005 under Riccardo Muti. In 1994 René Pape was contracted by Wolfgang Wagner for the Bayreuth festival for the part of Fasolt in "Das Rheingold" under the direction of James Levine. It was Levine who also directed Pape's successful 1995 debut at the Metropolitan opera in New York. His engagements at that house lasted until 2013 and included parts like Gurnemaz, King Henry as well as new productions of "Tristan and Isolde", "Fidelio", "Carmon" and "Faust". He is also a regular at other large American opera houses in San Francisco, Chicago and Los Angeles.
"René Pape is an artist who thrills his audiences with charisma, intelligence and a one-in-a-million voice: the luxurious timbre of Pape's supple, expressive bass is unmistakable, its velvety, dark brown texture shot with ear-catching flashes of brightness." (Opera News)
At the European music centres, René Pape is no stranger either: He made his debut at the Royal Opera House Convent Garden London in 1997 with the part of King Henry under the direction of Valery Gergiev in "Lohengrin". He returned to the house for "I Masnadieri" and "Lohengrin". His first performance at the Opéra National de Paris was the 1998 "Tristan and Isolde" in which he sang the part of King Marke; he returned in 2001 as Philipp in "Don Carlo". René Pape performed at the side of Waltraud Meier and Plácido Domingo at the Staatsoper in Vienna, the Staatsoper "Unter den Linden" and in Japan. Guest performances at the festivals of Glyndebourne, Orange, Luzern, at the White Nights in St. Petersburg as well as in the Arena di Verona, where he was the first German singer since the 1913 premiere of Bizet's "Carmen", also belong to his artistic activities. For the re-opening for the Dresden Frauenkirche, he performed Beethoven's "Missa Solemnis" in November 2005 with the choir and orchestra of the Saxon State Chapel under the direction of Fabio Luisi. The concert was televised by ARTE. In connection with the Staatsoper Unter den Linden and the Metropolitan Opera New York René Pape has performed in concerts and opera gala performances in Japan in 2006 and 2007. In the year of Mozart in 2006, he performed the title role of "Don Giovanni" at the Staatsoper Unter den Linden, in Las Palmas and Teneriffa as well as the part of Sarastro at the Salzburg Festival and at the Metropolitan Opera and in the cinema production of the "Magic Flute" by Kenneth Brannagh. More recently he performed the title role of "Boris Godunow" in the Semperoper Dresden in a production by Christian Pade.
René Pape has been named Berliner Chamber Singer in July 2000. He was elected "Singer of the year" in 2001 by the US magazine "Musical America" and a critics survey of the magazine "Opera World" named him "Singer of the year" in the season of 2005/2006. He received the "Opera News Award" in New York in 2006.
His countless radio, TV and record productions have earned Pape the world's most important music awards. among them a GRAMMY in 1998 and 2003 and an ECHO- Classic for his most recent solo album "Gods, Kings and Demons" (2009).
The European culture TV channel ARTE dedicated an individual and personal artists portrait to Pape in 2006:
"René Pape is a star, who represents a new generation of opera singer like no other. The portrait "René Pape- My burning heart" shows a flexible artist between opera and rock, Wagner and Rammstein, from the classic singer pose to the diabolical seducer." (ARTE, Mein Herz brennt)
Wie könnte die Macht der Presse bestehen, wenn wir sie einfach ignorierten? Und wie wenig Anstrengung hätte uns das zu kosten!
Richard Wagner
Press
Press History
2017
Sächsische Zeitung 08.06.2017 (Saxon Newspaper)
2016
Sächsische Zeitung 06.07.2016 (Saxon Newspaper)
Sächsische Zeitung 23.06.2016 (Saxon Newspaper)
Augusto 19.05.2016
Elbhangkurier Juni 2016
2015
Elbhangkurier Juli 2015
DNN - Dresden 2015
DNN - Dresden 2015
Agentur Bäumler 2015
SZ -Pirna Juni 2015 (Saxon Newspaper)
Wochenkurier Juni 2015
2014
Augusto Juli 2014
Wipplers Backpapier 2014
SZ Pirna 19.6.2014 (Saxon Newspaper)
2013
Rezension DNN 1.7.2013
Renzension SZ 9.7.2013 (Saxon Newspaper)
Top-Magazin Sommer 2013
DNN Empfehlungen zu Wagner
Sächsicher Bote 24.6.2013
DNN 9.7.2013
Kritik EHK August 2013
Elbhangkurier Juni 2013
Bild 19.6.2013
SZ 13.5.2013 (Saxon Newspaper)
SZ 24.6.2013 (Saxon Newspaper)
SZ 27.5.2013 (Saxon Newspaper)
Accreditation
Dear ladies and gentleman,
here you can contact our PR-office, register for our press conferences and order press tickets for the performances. We are looking forward to your questions and are happy to provide additional material!
For Sponsors
You with us – for Sponsors
For interested sponsors we say "Curtain Up" - The Richard Wagner Festival presents itself. Please click here to watch our presentation.
You want to take part in the biggest freelance theatre production in Eastern Germany? Feel free to follow this link for further information or download here.
Tickets
Please select one button to get redirected.
VVO-KombiTicket is included.
If you want to use public transportation to get to Graupa, please note that your ticket also includes a VVO ticket for all buses, trams, "S-Bahnen" and most of the Elbe-fairies 4 hours in advance of the show up until 4 am the next day. For more information, please call the VVO-InfoHotline 0351 852 65 55 or visit www.vvo-online.de
Dates
29.06.2018 18:30 | WAGNER SALON
Steffen Friedel - Saitenweise Werkstattklänge - Instrumentenbau ganz praktisch
29.06.2018 20:00 | Wagners World: EXIL
Open-air-theatre in the courtyard of the hunting lodge in Graupa
30.06.2018 16:30 | WAGNER SALON
Spazierengehen - Ein Workshop mit Kirsten Krepelin und Thomas Thränert
30.06.2018 20:00 | Wagners World: EXIL
Open-air-theatre in the courtyard of the hunting lodge in Graupa
Contact
Address
Cerca Dio
Erster Steinweg 17' 01326 Dresden
TEL: 0176 96 33 16 96
E-MAIL: post@johannesgaertner.de
cerca-dio.de
Richard-Wagner-Stätten
Richard-Wagner-Straße 6' 01796 Pirna OT Graupa
TEL: 03501 461 96 50, FAX: 03501 46 1 9 65 44
E-MAIL: wagnerstaetten@pirna.de
wagnerstaetten.de
Subscribe to the newsletter
Subscribe to our newsletter (in German)
Impressum
Johannes Gärtner
Erster Steinweg 17 | 01326 Dresden | Deutschland
Telefon: 0351 2687979 | Mobil: 0176 96331696 | post [at] johannesgaertner.de
Konzeption, Gestaltung und Herstellung
Ö GRAFIK Agentur für marketing und design
Thomas Walther
Wittenberger Straße 114 A
01277 Dresden
info@oe-grafik.de
www.oe-grafik.de
Disclaimer
Die Inhalte unserer Seiten wurden mit größter Sorgfalt erstellt. Für die Richtigkeit, Vollständigkeit und Aktualität der Inhalte können wir jedoch keine Gewähr übernehmen. Als Diensteanbieter sind wir gemäß § 7 Abs.1 TMG für eigene Inhalte auf diesen Seiten nach den allgemeinen Gesetzen verantwortlich. Nach §§ 8 bis 10 TMG sind wir als Diensteanbieter jedoch nicht verpflichtet, übermittelte oder gespeicherte fremde Informationen zu überwachen oder nach Umständen zu forschen, die auf eine rechtswidrige Tätigkeit hinweisen. Verpflichtungen zur Entfernung oder Sperrung der Nutzung von Informationen nach den allgemeinen Gesetzen bleiben hiervon unberührt. Eine diesbezügliche Haftung ist jedoch erst ab dem Zeitpunkt der Kenntnis einer konkreten Rechtsverletzung möglich. Bei Bekanntwerden von entsprechenden Rechtsverletzungen werden wir diese Inhalte umgehend entfernen.
Haftung für Links
Unser Angebot enthält Links zu externen Webseiten Dritter, auf deren Inhalte wir keinen Einfluss haben. Deshalb können wir für diese fremden Inhalte auch keine Gewähr übernehmen. Für die Inhalte der verlinkten Seiten ist stets der jeweilige Anbieter oder Betreiber der Seiten verantwortlich. Die verlinkten Seiten wurden zum Zeitpunkt der Verlinkung auf mögliche Rechtsverstöße überprüft. Rechtswidrige Inhalte waren zum Zeitpunkt der Verlinkung nicht erkennbar. Eine permanente inhaltliche Kontrolle der verlinkten Seiten ist jedoch ohne konkrete Anhaltspunkte einer Rechtsverletzung nicht zumutbar. Bei Bekanntwerden von Rechtsverletzungen werden wir derartige Links umgehend entfernen.
Urheberrecht
Die durch die Seitenbetreiber erstellten Inhalte und Werke auf diesen Seiten unterliegen dem deutschen Urheberrecht. Die Vervielfältigung, Bearbeitung, Verbreitung und jede Art der Verwertung außerhalb der Grenzen des Urheberrechtes bedürfen der schriftlichen Zustimmung des jeweiligen Autors bzw. Erstellers. Downloads und Kopien dieser Seite sind nur für den privaten, nicht kommerziellen Gebrauch gestattet. Soweit die Inhalte auf dieser Seite nicht vom Betreiber erstellt wurden, werden die Urheberrechte Dritter beachtet. Insbesondere werden Inhalte Dritter als solche gekennzeichnet. Sollten Sie trotzdem auf eine Urheberrechtsverletzung aufmerksam werden, bitten wir um einen entsprechenden Hinweis. Bei Bekanntwerden von Rechtsverletzungen werden wir derartige Inhalte umgehend entfernen.
Datenschutz
Die Nutzung unserer Webseite ist in der Regel ohne Angabe personenbezogener Daten möglich. Soweit auf unseren Seiten personenbezogene Daten (beispielsweise Name, Anschrift oder eMail-Adressen) erhoben werden, erfolgt dies, soweit möglich, stets auf freiwilliger Basis. Diese Daten werden ohne Ihre ausdrückliche Zustimmung nicht an Dritte weitergegeben. Wir weisen darauf hin, dass die Datenübertragung im Internet (z.B. bei der Kommunikation per E-Mail) Sicherheitslücken aufweisen kann. Ein lückenloser Schutz der Daten vor dem Zugriff durch Dritte ist nicht möglich. Der Nutzung von im Rahmen der Impressumspflicht veröffentlichten Kontaktdaten durch Dritte zur Übersendung von nicht ausdrücklich angeforderter Werbung und Informationsmaterialien wird hiermit ausdrücklich widersprochen. Die Betreiber der Seiten behalten sich ausdrücklich rechtliche Schritte im Falle der unverlangten Zusendung von Werbeinformationen, etwa durch Spam-Mails, vor.

Quelle: eRecht24.de - Internetrecht von Rechtsanwalt Sören Siebert